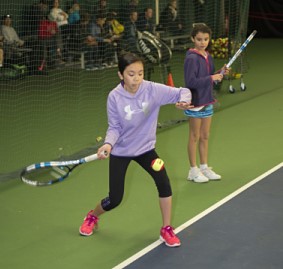 Junior Classes
Classes at BETC provide outstanding instruction in a fun, group setting. Our USPTA certified instructors teach the game to all ability levels, from beginners to nationally ranked tournament players.
Online monthly class registration is available to past and current students. New students need to contact BETC directly for more information. Guests will see a lesson guest fee added to their cart after "shopping for" and selecting each class. (Note:  Class registration is not confirmed until after payment is submitted.)  
Drop-Ins
You may sign up for drop-ins the same day of class by contacting the Front Desk or your instructor.
10 and Under
10 and Under Tennis is an exciting new approach to introduce kids to the game. Balls are lower in compression, meaning they bounce lower and slower so they are easier to hit. This allows kids more time to get to the ball and helps them develop proper swing patterns. The racquets are smaller, lighter and sized for smaller hands. The courts are smaller and easier to cover. This all adds up to more success and more fun! We offer five levels of 10 & Under Tennis: Red Ball 1, Red Ball 2, Orange Ball 1, Orange Ball 2 and Green Dot Ball. 
Advanced (Level 4)
Advanced level 4 classes are for students that have developed an overall game. These classes are faster paced and are geared toward preparing students for competitive play at Tournaments and the High School level. Players will work on developing additional pace on groundstrokes and serves, competitive strategies for singles and doubles and conditioning. 
Beginner (Level 1 and 2)
Our beginner classes are designed for kids over the age of 10 that are just starting out in tennis. Beginner Level 1 introduces players to the fundamentals of tennis through drills and play-based activities. Players will learn how to hold the racquet, beginning stroke development and court positioning. Beginner Level 2 players have limited on-court experience and are still developing basic strokes. Players will work on improving consistency while starting to develop their serve and net play. 
High School Tennis (Level 3 and 4)
This year-round program is for players age 14-18 that are looking to improve and become more competitive in High School tennis. Junior Varsity classes are geared toward players with a Level 3 rating. Varsity is for Level 4.
Intermediate (Level 3)
Our Intermediate level 3 classes further the growth of players by introducing more advanced play. Students will continue to work on consistency while also developing tactical and strategic approaches to match play.  
High Performance
Our Junior High Performance program is modeled after the national standards set by the USTA. Participants are required to be dedicated to year-round competitive tennis, including participating in tournaments n a regular basis. Students are typically ranked in their age division in the Pacific Northwest and/or participating in High School tennis at the very highest levels. To see if you are eligible to participate, please contact our High Performance coach, JJ Jackson.
Special Olympics Training
This class is for students with intellectual or developmental disabilities that are currently at or working toward competitive play. Students should be match capable with movement skills and an ability to rally. An Adaptive Recreation Level 3 rating and instructor approval required.